The Song of Arms and a Man
Friday 2nd December, 2022, 7 – 9pm
at King's College, London
170 Strand, WC2R 2LS

The Latin Qvarter's unique presentation of Virgil's Aeneid is read by Matthew Hargreaves, Emma Kirkby, Llewelyn Morgan
and Victoria Punch.
George Sharpley's two-hour adaptation brings this thrilling epic alive, telling the story of Aeneas' struggle to fulfil his destiny as founder of Rome – from his escape from the burning ruins of Troy to his asylum and heart-breaking affair with the Carthaginian queen Dido and then his reluctant war with the inhabitants of his fated homeland of Italy. Selections of Virgil's epic verse are read in the original Latin interspersed with an English narration which tells the whole story of the poem.
The Song of Arms and a Man echoes the ancient culture of public performance of poetry, and is accompanied with authentic ancient music played by the aulos specialist, Callum Armstrong.
If you are booking for a group, contact the Latin Qvarter directly: latin@lingua.co.uk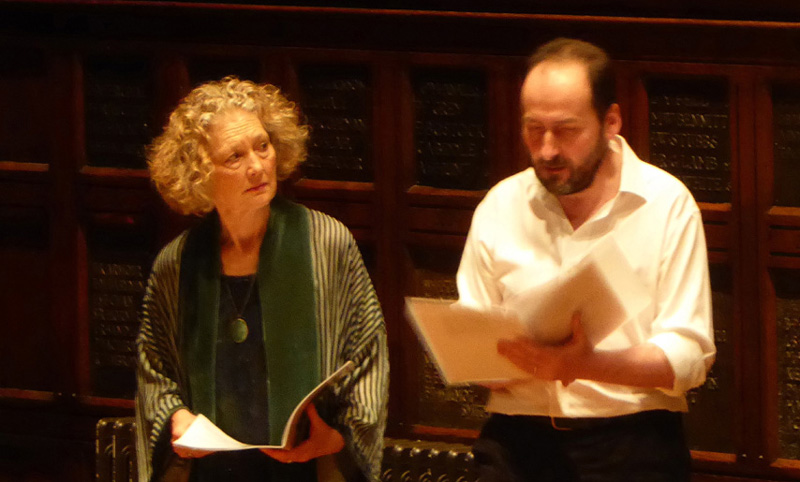 Matthew Hargreaves reads from Aeneas' visit to the underworld.
Hear Matthew now
Pupils of Hills Road School in Cambridge came to The Song in November 2019:
Despite no prior knowledge of Latin, the performers managed to speak so fluently that I was often mesmerised by their dialogue and enjoyed it thoroughly. The programme and production have been really useful in learning for next year/gaining the perspective of contemporary audiences. 
The reading and performance aspect really brought the poem to life for me, and I'm glad I had the opportunity to hear it in the original Latin but presented in an accessible and engaging way.
Despite not having studied Latin for a few years I found my interest rekindled as it was read so wonderfully and so beautifully to the audience.
It was very interesting and I am pleased we now have some background knowledge for Year 13.
It was one of the most accessible and interesting performances I have seen of a Latin text. Wonderfully acted.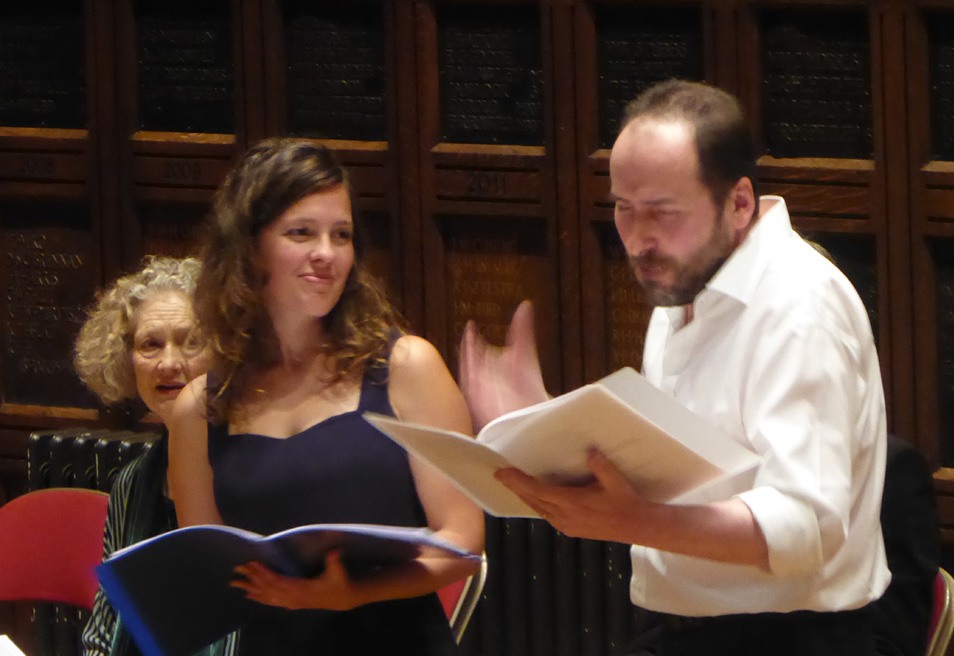 Feedback from Gloucester, Bristol, Oxford, Charterhouse and Cambridge
It was phenomenal. Lots of our students were in the audience – thank you for inspiring them. I was spellbound and the two hours went by very quickly.  Guildford High School – Twitter
It was a brilliant dramatisation – warm, witty, bloody and cruel – and a sensational performance.  Prof Tim Whitmarsh, Vice-Master, St John's College, Cambridge

It was wonderful to hear so much of the Aeneid performed this evening and to romp through the story from start to finish. The cast of The Song of Arms and a Man did a brilliant job bringing the text to life.   Andrew Christie (Twitter)
What a superb evening it was! Spellbindingly good.  Nic Aubury (Twitter)
The editing and pacing of the abridgement was masterly, and the interleaving of narration and recitation worked really well.  Prof Philip Hardie, President of the Virgil Society
Its appeal to a wide audience is not difficult to imagine, even if one does not have any Latin; it is, in short, a rollicking tale.  Linda Martinez
A magnificent performance – and the programme was superb.  Conrad Donaldson
The Song of Arms and a Man is an enthralling and exciting performance, and such a treat, to hear the nuances and power of Virgil's original Latin, but so engagingly done thanks to the involvement of such experts – not only in the pronunciation and meaning of the Latin, but also in the timeless communication of the characters' personalities and foibles. I enjoyed this evening enormously, and I would say that for anyone interested in the Aeneid, it is an absolute must-see!  Andy Keen, Head of Classics, Bristol Grammar School
Sheer magic. An evening to remember.  Sheila Brown
Wow, what a fantastic way to spend a Saturday evening! Thank you to the Guildford Classical Association and the Latin Qvarter for putting on such a powerful performance of the Aeneid. A most memorable experience for our classics department and pupils!  Surbiton High School
The performance was outstanding!  Royal Grammar School, Guildford
How exciting to hear a real aulos player! The English narrative beautifully echoed the original Latin and set the scene for the Latin extracts. It was entrancing seeing such well-known passages brought to life – acted out and performed in impressively fluent and expressive spoken Latin.  Guildford Classical Association
Above left: Emma Kirkby and Llewelyn Morgan
Left: Victoria Punch and Llewelyn Morgan
Photos by Bryan Conway of the Guildford Classical Association